Ground Handling Services
Ground handling services include all the services an aircraft needs during the period it remains on the ground. Some airlines receive these services from a ground handling services company while others prefer to use their own equipment. The Company provides ground handling services directly under Havaş brand as well as indirectly under TGS, CAS and Havaş Europe brands. The Company provides ground handling services in five different operational areas: ramp services; passenger services; cargo and mail services; load control, communication and flight operations services; representation and supervision services.
Pasenger Services
Incoming passenger acceptance and guidance to baggage claim areas and terminal exit,
Lost, damaged and transfer baggage processes of incoming passengers (if any),
Outgoing passenger acceptance for flight and baggage processes,
Safe acceptance of outgoing passengers to the aircraft,
Incoming and outgoing VIP, unaccompanied children and special care passenger services,
Specially trained personnel for disabled passengers.
Ramp Services
Havaş ramp services offers the following services with its experienced staff and state of the art technology:
Meeting and marshalling the aircraft,
Offloading and loading the aircraft,
Equipment supply,
Provision of Ground Power Unit, Air Condition Unit and Aircraft Push-Back Tractor services,
Interior cleaning,
Provision of toilet and water services to the aircraft,
De-icing of aircraft in adverse weather conditions and taking measures for anti-icing,
Passenger and crew transport between aircraft and passenger terminals,
Storage of pallets, containers and other unit load devices.
Cargo and Mail Services
Acceptance of export cargo and mail documents,
Physical control and preparation of export cargo and mail,
Monitoring cargo and mail for proper loading to the aircraft,
Custom transactions of export cargo,
Transfer of incoming cargo to import warehouse and incoming mails to Turkish Postal Services (PTT),
Detection of disruption of imported cargo and mail if any, and taking necessary actions,
Completion of custom clearance of the imported cargo and preparing it for delivery to recipients,
Notification of recipients,
Transfer cargo services.
Load Control, Communications and Flight Operation Services
Load Control and Communications Services
Coordination of aircraft servicing units,
Preparation and distribution of flight documents (customs declaration, loading instruction, load sheet, manifest, weather forecast, flight plan etc.),
Load control, weight and balance calculations,
Transmission and reception of all operational messages, notification of all related units,
Communication and coordination between aircraft and ground services.
Flight Operation Services
Flight permit and airport slot applications,
Preparation and distribution of flight plan to the cabin crew,
Coordination with fuel and aircraft catering companies,
Preparation of weather forecasts and navigation information and distribution to the cabin crew.
Representation and Supervision Services
Making payments and/or issuing guarantees on behalf of the airlines to related institutions such as terminal operators, airport authorities, customs, police, etc. against all services provided and listed above as per respective contracts,
Establishing and maintaining contact with local authorities in the name of the airline company,
Preparing, transmitting and filing reports, statistics, documents, etc related to flights.
General Aviation Terminal Service
Havaş has started to provide best quality services to our valuable customers in the newly commissioned General Aviation Terminal where services are provided for the private business jets and the air taxi companies. As Havaş, we have positioned ourselves in this particularly important area.
Three VIP service vehicles for easy and comfortable transportation of the passengers and the crew within the terminal – aircraft – terminal route
Ramp services vehicles in order to provide all kinds of services for the aircrafts
Passenger service staff ready to provide the passage of the passengers and the crew through the terminal in the fastest and the easiest way
Load control and flight operations staff ready to ensure that the aircrafts receive safe and secure services within the predefined timelines, and that the necessary communication and coordination with the aviation company and the flight operation staff is established
are available in the General Aviation Terminal in order to provide services on a 7/24 basis;
HAVAŞ
Mertkan Ötünlü
Station Manager   
Havas Saudi Arabia
PMIA Madinah
Office 1907
Kingdom of Saudi Arabia

Mobile: +966 56 826 54 01
Phone : +966 14 813 99 36
E-mail: motunlu@havas.net 
Useful Information
Flight Information
Real-time information of arrival and departure flights at Tibah Airport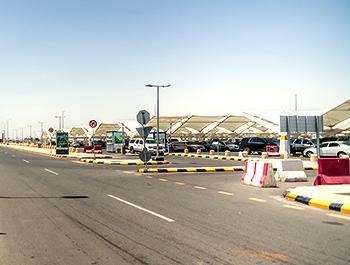 Parking
Your way to a secure parking space! Benefit from the attractive online parking offers of Tibah Airport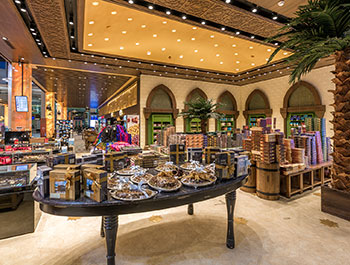 Shopping & Dining
See the full range of shops in our shopping universe. At the airport you'll find a great selection of shops within fashion, electronics, design and souvenirs
Frequently Asked Questions
Schedules, price information and ticket operations regarding flights are under the control and responsibility of the airline companies. You can access detailed and accurate information from your airline company.
Yes. You need to make your subscription within one hour of entering the car park.
Our terminal and our parking provide 24 hour services and you can make your subscription transaction any time of the day in a very short time.
Airline companies are responsible for all procedures after check-in, during loading of luggage to aircraft and afterwards. Therefore you should make your application to related airlines company Lost-Damaged Luggage Units with your identification and luggage information.