Check-in Counters
There are 64 check-in counters in the check-in aisle, which are allocated for both international & domestic flights. Please check the details of the check-in counters your flight will use from the LCDs around the airport.
Self Check-In
To add more convenience to your journey, self-check-in kiosks are now available at PMIA. Our passengers can enjoy more check-in convenience with the self check-in facility. Within 24 hours prior to departures, passengers travelling with the following airlines with confirmed booking can use the facility to check in, select seats and collect boarding passes without any hassle in queuing.
Note : Self Check-In Kiosks are available to be utilized by airlines.
Hajj Traffic
In addition to the 64 check-in counters in the check-in aisle, Hajj Passengers will also be able to register their luggage at any of the 34 check-in counters (16 permanent counters in Hajj Pavillions, 18 temporary in Hajj Terminal Basement) dedicated exclusively for Hajj passengers. This additional number of dedicated counters is to ensure smooth operations during Hajj period.
Useful Information
Flight Information
Real-time information of arrival and departure flights at Tibah Airport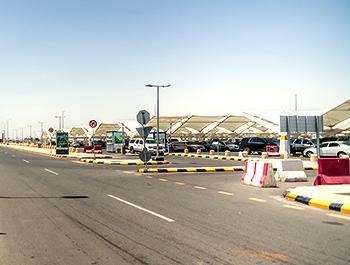 Parking
Your way to a secure parking space! Benefit from the attractive online parking offers of Tibah Airport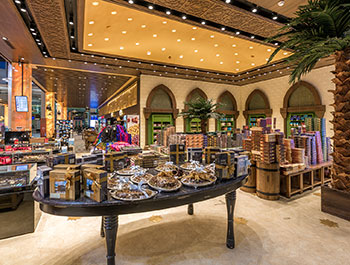 Shopping & Dining
See the full range of shops in our shopping universe. At the airport you'll find a great selection of shops within fashion, electronics, design and souvenirs
Frequently Asked Questions
Schedules, price information and ticket operations regarding flights are under the control and responsibility of the airline companies. You can access detailed and accurate information from your airline company.
Yes. You need to make your subscription within one hour of entering the car park.
Our terminal and our parking provide 24 hour services and you can make your subscription transaction any time of the day in a very short time.
Airline companies are responsible for all procedures after check-in, during loading of luggage to aircraft and afterwards. Therefore you should make your application to related airlines company Lost-Damaged Luggage Units with your identification and luggage information.