Madinah Airport
TAV Airports signed a contract with GACA, the Civil Aviation Authority of Saudi Arabia, together with Al Rajhi and Saudi Oger for the Build Transfer Operate project of the Madinah Airport, the first airport privatization of Saudi Arabia. The Consortium will complete the construction of the passenger terminal by the first half of 2015 and shall be entitled to operate the Madinah Airport for 25 years, one of the most important airports in Saudi Arabia, one of the two main entry points for the visitors to the Ka'aba and those arriving for their pilgrimage. The project investment is contemplated approximately 1 to 1.5 billion USD. The Consortium shall construct a state-of-the-art passenger terminal by the first half of 2015 and shall be entitled to operate the Madina Airport for 25 years. Within the scope of the project, the civil works are planned to commence in the second half of 2012 and completed in three years, and operated by the Consortium until 2037. The capacity of the Madinah Airport will be increased to 8 million passengers per year by increasing the capacity of the existing airport which had served 3.3 million passengers in 2010, through a new terminal building to be build, apron and fast exit roads, upon which the capacity shall be increased to 16 million passengers per year ¬prior to the expiry of the concession period.
Useful Information
Flight Information
Real-time information of arrival and departure flights at Tibah Airport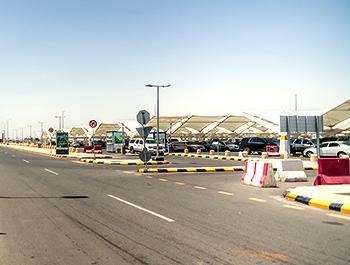 Parking
Your way to a secure parking space! Benefit from the attractive online parking offers of Tibah Airport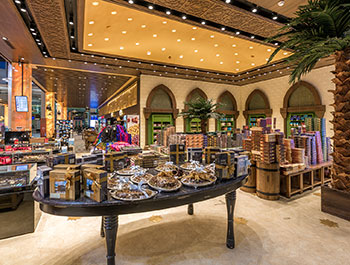 Shopping & Dining
See the full range of shops in our shopping universe. At the airport you'll find a great selection of shops within fashion, electronics, design and souvenirs
Frequently Asked Questions
Schedules, price information and ticket operations regarding flights are under the control and responsibility of the airline companies. You can access detailed and accurate information from your airline company.
Yes. You need to make your subscription within one hour of entering the car park.
Our terminal and our parking provide 24 hour services and you can make your subscription transaction any time of the day in a very short time.
Airline companies are responsible for all procedures after check-in, during loading of luggage to aircraft and afterwards. Therefore you should make your application to related airlines company Lost-Damaged Luggage Units with your identification and luggage information.