Environmental Policy
Being the first eco-friendly airport in MENA region and outside United States as well; Prince Mohammed Bin Abdulaziz International Airport is the pioneer of environmental friendly and green practices in Saudi aviation industry.
Madinah Airport has been awarded Leadership in Energy and Environmental Design (LEED) Gold Certificate for the recent terminal expansion from the U.S. Green Building Council (USGBC). The award makes Madinah Airport home to the first LEED Gold Certificate for an airport in the MENA region and outside the US, demonstrating Madinah Airport's commitment to environment, sustainability, passenger comfort, and efficiency.
Leadership in Energy and Environmental Design (LEED) is a rating system developed by USGBC that is recognized as the international mark of excellence in green building in over 150 countries.
Madinah Airport has been designed and built using strategies aimed at improving performance across all the metrics that matter most: energy savings, water efficiency, carbon dioxide emissions reduction, improved indoor environmental quality, and stewardship of resources and sensitivity to their impacts.
 We are proud to have the first eco-friendly airport in the MENA region to achieve a LEED Gold certification. It reflects our deep commitment to sustainable practices.
TIBAH Airports Operations Co. LTD is committed to operate, develop and maintain the Airport in line with the principles of sustainable development.
To successfully implement TIBAH Airports Operations Co. LTD policy, an Environmental Management System that meets ISO 14001 international standards is being set. TIBAH Airports Operations Co. LTD subscribes to the following five environmental management principles:
Comply with relevant environmental legislation and regulations,

Prevent and minimize adverse environmental impacts associated with our airports' operations,

Integrate environment factors in all our activities,

Evaluate and improve our environmental performances,

Disclose all our environmental performances to the competent authorities, representatives of nearby towns, residents and environmental associations.
Useful Information
Flight Information
Real-time information of arrival and departure flights at Madinah Airport
Parking
Your way to a secure parking space!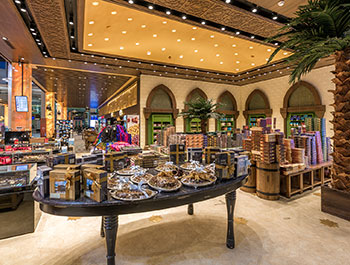 Shopping & Dining
See the full range of shops in our shopping universe. At the airport you'll find a great selection of shops within fashion, electronics, design and souvenirs
Frequently Asked Questions
Schedules, price information and ticket operations regarding flights are under the control and responsibility of the airline companies. You can access detailed and accurate information from your airline company.
Yes. You need to make your subscription within one hour of entering the car park.
Our terminal and our parking provide 24 hour services and you can make your subscription transaction any time of the day in a very short time.
Airline companies are responsible for all procedures after check-in, during loading of luggage to aircraft and afterwards. Therefore you should make your application to related airlines company Lost-Damaged Luggage Units with your identification and luggage information.