Quality Policy
Click here to download signed TIBAH Quality Policy.
Tibah Airports Operations Company (TIBAH) was established in 2012 to operate Prince Mohammad Bin Abdulaziz International Airport in Al Medina under the Build, Transfer and Operate Agreement with the General Authority of Civil Aviation (GACA) in Saudi Arabia.
TIBAH's goal is to provide its customers and stakeholders with the highest quality services by adhering to the highest standards of quality, ethics and corporate behaviour. This commitment is rooted in TIBAH's values and is essential to our continued success.
TIBAH will meet its Quality Standards in Safety, Environment, and Operations, as well as the aim of meeting or exceeding customers' expectations by applying best national and international practices based on continuous assessment of satisfaction with passengers and stakeholders. Our commitment to quality is vital to all we do. Therefore, we have established an Integrated Management System (IMS) that complies with the standard requirements of ISO 9001, ISO 14001 & ISO 10002.
This IMS provides a framework for enhancing, measuring and improving our performance towards Quality, Environment, Operations and our customers' satisfaction.
We have developed the following guiding principles to achieve our goal of attaining total customer satisfaction and having the highest quality possible in our services, processes, facilities, and business decisions:
1. Regular collection and analysis of customer feedback
2. An efficient customer complaints/suggestion handling procedure
3. Selection of reliable suppliers and regular check on their performance against set criteria
4. Training and development for our employees
5. Regular audit programme
6. Measurable quality objectives which reflect our business aims
7. Management reviews of audit results, customer feedback and business performance
Our internal procedures have been developed and integrated into the business as a direct consequence of what TIBAH believes are the Key Performance Indicators (KPIs) that need to be followed to maintain our standards of excellence.
The procedures are reviewed regularly with Directors and Quality Manager and are held in the IMS Manual which is made available to all employees.
This policy is posted on the Company's notice board and can also be found on its official website.
We believe that Quality derives from the staff's commitment to service and excellence. This is why all TIBAH employees have a responsibility within their own areas of work to ensure that Quality is a part of their everyday working practice and this is audited on a regular basis.
Useful Information
Flight Information
Real-time information of arrival and departure flights at Madinah Airport
Parking
Your way to a secure parking space!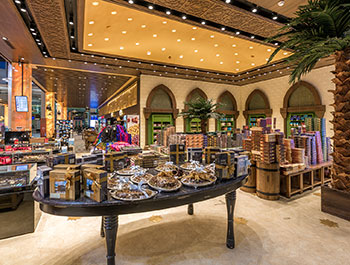 Shopping & Dining
See the full range of shops in our shopping universe. At the airport you'll find a great selection of shops within fashion, electronics, design and souvenirs
Frequently Asked Questions
Schedules, price information and ticket operations regarding flights are under the control and responsibility of the airline companies. You can access detailed and accurate information from your airline company.
Yes. You need to make your subscription within one hour of entering the car park.
Our terminal and our parking provide 24 hour services and you can make your subscription transaction any time of the day in a very short time.
Airline companies are responsible for all procedures after check-in, during loading of luggage to aircraft and afterwards. Therefore you should make your application to related airlines company Lost-Damaged Luggage Units with your identification and luggage information.