Safety Policy
Please click here to download the "Safey Policy".
We are committed to safeguarding the safety of our colleagues, of others who carry out work on our behalf, our service partners, passengers and members of the public. Our aim is that everyone at Madinah Airport goes home safe and well to their loved ones at the end of each day.
To deliver on this commitment we seek to: -
1. Create a culture that is intolerant of accidents, incidents and poor performance by encouraging everyone to report any aviation safety issue, violation, hazardous condition, error or near miss;
2. Establish safety as a core business value and aspire to zero-harm.
3. Make safety important and personal such that it influences people's choices and behaviours;
4. A regular assessment and analysis of new systems, procedures and changes in the airport infrastructure in relation to the safety of flight operations.
5. Regular safety inspections and continuous improvement of safety management methods relating to flight operations.
Useful Information
Flight Information
Real-time information of arrival and departure flights at Madinah Airport
Parking
Your way to a secure parking space!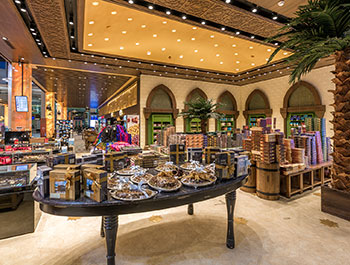 Shopping & Dining
See the full range of shops in our shopping universe. At the airport you'll find a great selection of shops within fashion, electronics, design and souvenirs
Frequently Asked Questions
Schedules, price information and ticket operations regarding flights are under the control and responsibility of the airline companies. You can access detailed and accurate information from your airline company.
Yes. You need to make your subscription within one hour of entering the car park.
Our terminal and our parking provide 24 hour services and you can make your subscription transaction any time of the day in a very short time.
Airline companies are responsible for all procedures after check-in, during loading of luggage to aircraft and afterwards. Therefore you should make your application to related airlines company Lost-Damaged Luggage Units with your identification and luggage information.