Madinah Airport becomes the Kingdom's first Airport to obtain Airport Carbon Accreditation Level 2 - 'Reduction' Certificate
Madinah Airport becomes the first Airport in Saudi Arabia
to obtain Airport Carbon Accreditation Level 2 Certificate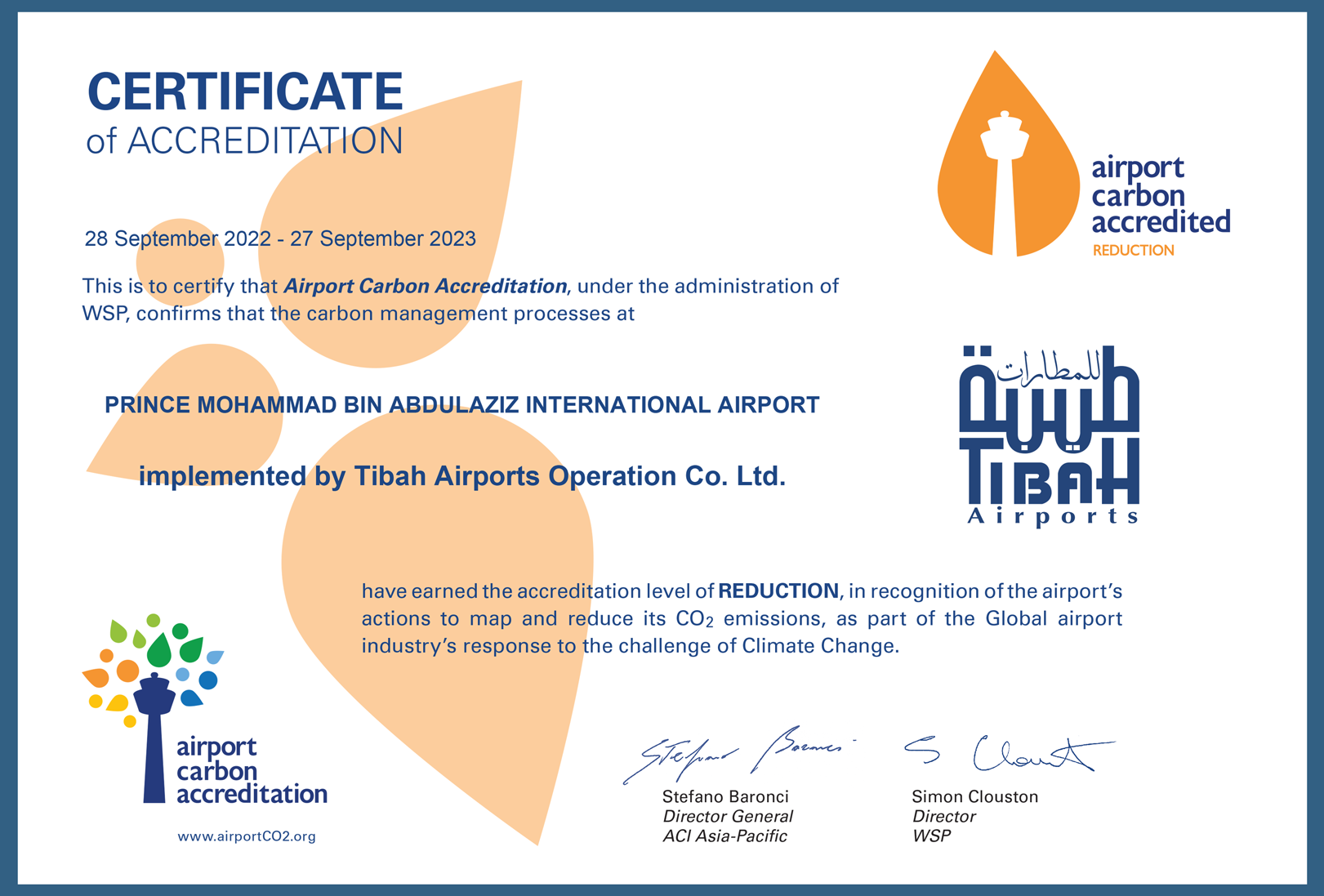 Tibah Airports Operation Co, the operator of Prince Mohammed bin Abdulaziz International Airport in Madinah (PMIA), announced that PMIA has received the certificate of Level 2 - Reduction of the Airport Carbon Accreditation Programme from the Airports Council International (ACI), making PMIA the first airport to achieve this level in Saudi Arabia. It is a testament to Tibah's commitment to meeting sustainable development requirements and objectives, as well as its determination to implement the necessary operational programs at PMIA aimed at reducing carbon emissions and protecting the environment through the application of international standards and global best practices. It is aligned with the Kingdom's vision for sustainable development and its goal of achieving carbon neutrality (zero net carbon emissions) by 2060 as part of the Saudi Green Initiative..
This achievement is part of Tibah's efforts to preserve the environment and to comply with ISO14001 requirements for Environment Management System (EMS) and ISO 9001 requirements for Quality Management System (QMS).
Managing Director of Tibah Airports Operation Co., Eng. Sofiene Abdessalem, said: "We are pleased that PMIA has successfully fulfilled the requirements of Level 2 of the ACI Airport Carbon Accreditation Programme, making PMIA one of the leading KSA airports that obtain this accreditation and one of the active contributors to reducing carbon emissions, which helps to raise PMIA rating globally. Eng. Sofiene Abdessalem emphasized that Tibah is keen on adopting and implementing the best international standards and environmentally friendly practices at PMIA Airport", adding that "This achievement confirms and reflects the continuous support given by the General Authority of Civil Aviation to PMIA Airport in order to remain a leading and sustainable gateway to serve the pilgrims and visitors and improve passenger experience."
Stefano Baronci, Director General, ACI Asia-Pacific said, "We congratulate Prince Mohammad bin Abdulaziz International Airport for achieving Level 2 – Reduction in the Airport Carbon Accreditation Programme. This achievement demonstrates the airport's firm commitment to invest in a more sustainable future for aviation and for the region it serves."
Tibah Airports Operation Co. is a member of ACI Asia-Pacific. The Airport Carbon Accreditation programme is the only institutionally endorsed programme that independently assesses and recognizes airports' efforts to manage and reduce their CO2 emissions."